"Je me suis mis une énorme pression pendant une longue période afin de reproduire sur
Born In The U.S.A.
l'intensité de
Nebraska
. Je n'y suis jamais arrivé. Mais la chanson
Born In The U.S.A.
est probablement une de mes cinq ou six meilleures chansons, et il y avait quelque chose sur la nature "pot-pourri" du reste de l'album qui en a peut-être fait un de mes albums populaires les plus purs [...]
Born In The U.S.A.
a changé ma vie et m'a donné un public plus large. Ce disque m'a forcé à m'interroger sur la façon de présenter ma musique et m'a fait réfléchir encore plus à ce que j'étais en train de faire" (
Songs
)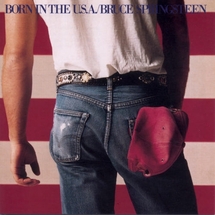 04 juin 1984
****
Bruce Springsteen
guitare, chant
Max Weinberg
batterie, chœurs
Garry Tallent
basse, chœurs
Steve Van Zandt
guitare acoustique, mandoline, chœurs
Roy Bittan
piano, claviers, chœurs
Danny Federici
orgue, piano, glockenspiel
Clarence Clemons
saxophone, percussions, chœurs
****
Produit par Bruce Springsteen, Jon Landau, Chuck Plotkin & Steve Van Zandt
Enregistré de janvier 1982 à février 1984 - Power Station (New York), Hit Factory (New York) & Thrill Hill (Los Angeles)