---
---
THE ESSENTIAL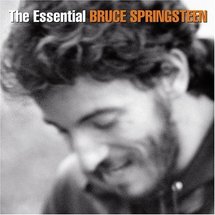 11 novembre 2003
****
16 octobre 2015
---
---
---

I'll Stand By You Always (demo).mp3 (5.12 Mo)

---
---
---
---
---
---
---
---
---
20 janvier

Le 12 janvier dernier, Bruce Springsteen (accompagné de Patti Scialfa) a donné un concert acoustique privé à la Maison-Blanche devant Barack Obama, et 200 membres de son staff, comme un remerciement aux huit années passées. Aucune cérémonie, aucune presse, juste un geste personnel, un homme, une guitare et ses chansons.
A lire...
26 décembre

En cette fin d'année, la série des archives de Bruce Springsteen s'agrandit. Le dernier concert de la tournée
Working On A Dream
(enregistré le 22 novembre 2009, à Buffalo) est officiellement disponible en téléchargement et en CD. En plus de reprendre l'intégralité du premier album du chanteur (
Greetings From Asbury Park, NJ
), ce concert a la triste privilège d'être le dernier de Clarence Clemons, saxophoniste légendaire du E Street Band.
A écouter...
23 novembre

Bruce Springsteen a reçu hier des mains du président américain, Barack Obama, la Médaille de la Liberté (
Presidential Medal of Freedom
), la plus haute distinction civile américaine. Tout comme Robert De Niro, Diana Ross, Tom Hanks, Ellen DeGeneres, Bill Gates ou Michael Jordan, cette année, la
Presidential Medal of Freedom
a été décernée "
aux individus ayant particulièrement contribué à la sécurité ou à l'intérêt national des États-Unis, à la paix dans le monde, ou à tout autre effort culturel, public ou privé
".
A lire...
09 novembre

Le 14 décembre prochain, Bruce Springsteen participera à un concert au bénéfice du
Rainforest Fund
, une organisation caritative, dédiée à l'environnement, et fondée par le musicien Sting et sa femme. Le chanteur sera sur scène, à New York, aux côtés de Sting, James Taylor, Chris Botti... A suivre
07 novembre

Après avoir activement participé aux élections présidentielles américaines de 2004, 2008 et 2012, Bruce Springsteen semblait rester à l'écart de la campagne 2016. Mais dans les dernières heures de la campagne, le chanteur sera finalement présent, à la veille de l'élection, pour le dernier meeting de la candidate Hillary Clinton, à Philadelphie, en compagnie du Président Obama et de Jon Bon Jovi.
A lire...
---
---
---
---
---
---
---
---
---
---
L'ensemble des textes, traductions et autres écrits de ce site est le fruit d'un travail collectif, conçu et rédigé à l'intention des fans, pour les fans... Le contenu rédactionnel est la propriété du site et de ses auteurs.