Well, I rode that ribbon of highway
I saw above me the endless skyway
I saw below me the golden valley
This land was made for you and me

I've roamed and rambled, I've followed my footsteps
Through the sparkling sands of her diamond deserts
And all around me a voice was calling
It said this land was made for you and me

This land is your land, this land is my land
From California to the New York island
From the Redwood Forest to the Gulf Stream waters
This land was made for you and me

Well, the sun came shining and I was strolling
Through wheat fields waving and dust clouds rolling
And a voice was sounding as the fog was lifting
Saying this land was made for you and me

This land is your land, this land is my land
From California to the New York island
From the Redwood Forest to the Gulf Stream waters
This land was made for you and me
****
J'ai parcouru ce ruban de route
J'ai vu au-dessus de moi les cieux infinis
J'ai vu au-dessous de moi la vallée dorée
Ce pays a été fait pour toi et moi

J'ai erré et divagué, j'ai suivi mes pas
A travers les sables étincelants de ses déserts de diamants
Et tout autour de moi, une voix appelait
Elle disait que ce pays a été fait pour toi et moi

Ce pays est ton pays, ce pays est mon pays
De la Californie à l'Ile de New York
De la forêt de Redwood aux eaux du Gulf Stream
Ce pays a été fait pour toi et moi

Le soleil brillait et je me baladais
A travers des champs de blés qui ondulaient et des nuages de poussières qui roulaient
Et une voix résonnait alors que le brouillard se levait
Disant que ce pays a été fait pour toi et moi

Ce pays est ton pays, ce pays est mon pays
De la Californie à l'Ile de New York
De la forêt de Redwood aux eaux du Gulf Stream
Ce pays a été fait pour toi et moi
****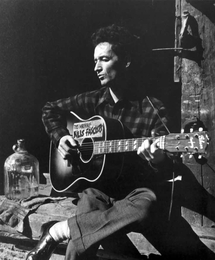 This Land Is Your Land
est une chanson dont les paroles ont été écrites par Woody Guthrie en 1940 sur une mélodie tirée d'un chant gospel baptiste,
Oh, My Loving Brother
. Enregistrée le 16 avril 1944 par le producteur Moe Asch pour Folkway Records, la chanson sera publiée pour la première fois en 1956 par le label Ludlow Music. Au fil des versions et des interprétations, trois strophes ont été enlevées de la version originale:
There was a big high wall there that tried to stop me
Sign was painted it said private property
But on the other side it didn't say nothing
That side was made for you and me

Nobody living can ever stop me
As I go walking that freedom highway
Nobody living can ever make me turn back
This land was made for you and me

In the shadow of the steeple I saw my people
By the relief office I seen my people
As they stood there hungry, I stood there asking
Is this land made for you and me ?
****
"
Il y a un livre disponible en ce moment, il s'intitule
Woody Guthrie - A Life
. Un livre écrit par un certain Joe Klein. Et je ne connaissais pas grand chose sur Woody Guthrie jusqu'à ce que je lise ce livre. J'avais beaucoup entendu parler de sa musique... C'est un livre tout simplement magnifique. Et voici une chanson qui a été composée à l'origine comme une réponse, comme une réponse enragée à
God Bless America
(chanson patriotique américaine et hymne officieux des États-Unis, ndt). Et depuis, elle a été utilisée pour beaucoup de choses. Mais si vous en avez l'occasion, vous devriez prendre ce livre et le lire, car il vous raconte beaucoup de choses sur le pays dans lequel vous vivez, il me semble...
" (Uniondale, NY, 28.12.1980)
****